Posters are an essential element of PASC17 as they provide the ideal opportunity for exchange of ideas and expertise within and between the various scientific disciplines represented at the conference.
Presenters had the possibility to "pitch" their posters to the conference audience in a rapid-fire flash session held before the two-hour scheduled poster session. Posters with the most stimulating content were recognized in an award ceremony on the final day of the conference.
Here you can find the winners of the awards among the 48 posters present at PASC17.
Best Poster Award Climate & Weather
GridTools: A C++ Library for Computations on Grids
Presenter: Mauro Bianco (ETH/CSCS)
Co-authors: Paolo Crosetto (ETH/C2SM), Oliver Fuhrer (MeteoSwiss), Stefan Moosbrugger (MeteoSwiss), Carlos Osuna (MeteoSwiss), Thomas Schulthess (ETH/CSCS), Hannes Vogt (ETH/CSCS)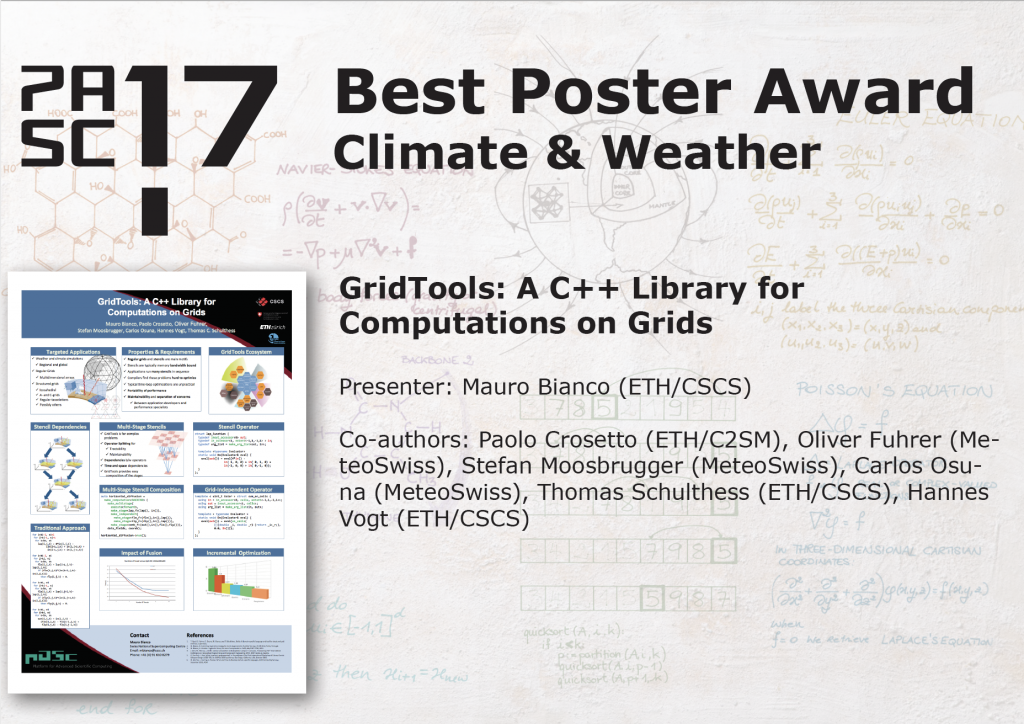 Best Poster Award Computer Science & Math
Load-Balanced Partition Refinement with the Graph p-Laplacian
Presenter: Toby Simpson (USI)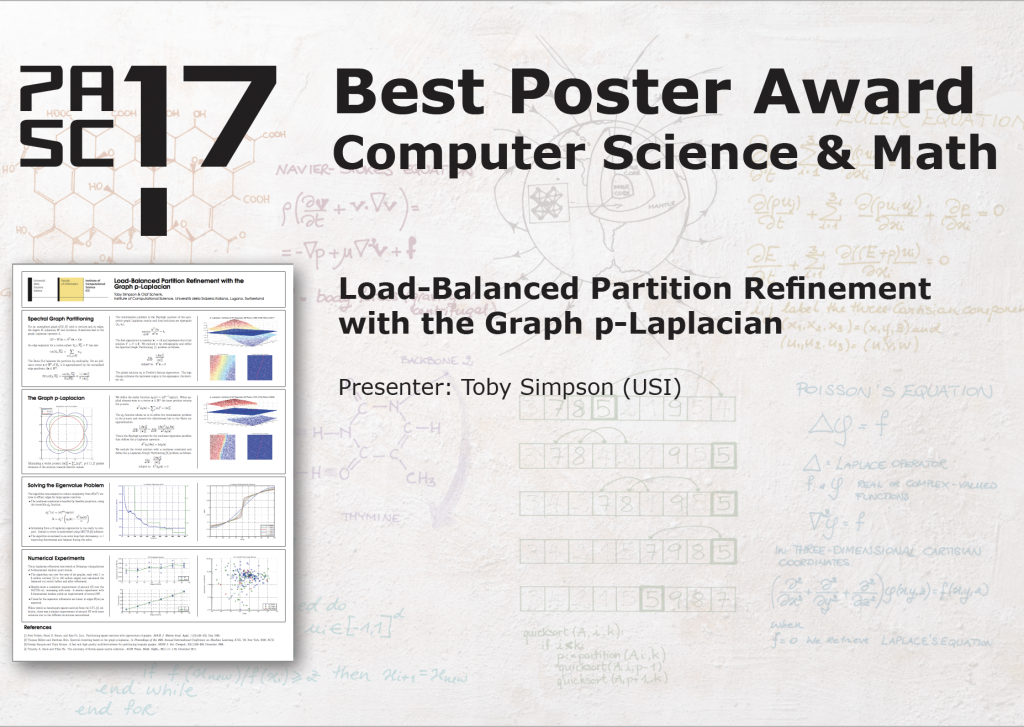 Best Poster Award Engineering
A Multiscale Model for the Simulation of Sediment Impact Erosion of Metallic Targets
Presenter: Sebastian Leguizamon (EPFL)
Co-authors: Siamak Alimirzazadeh (EPFL), François Avellan (EPFL), Ebrahim Jahanbakhsh (USI), Audrey Maertens (EPFL)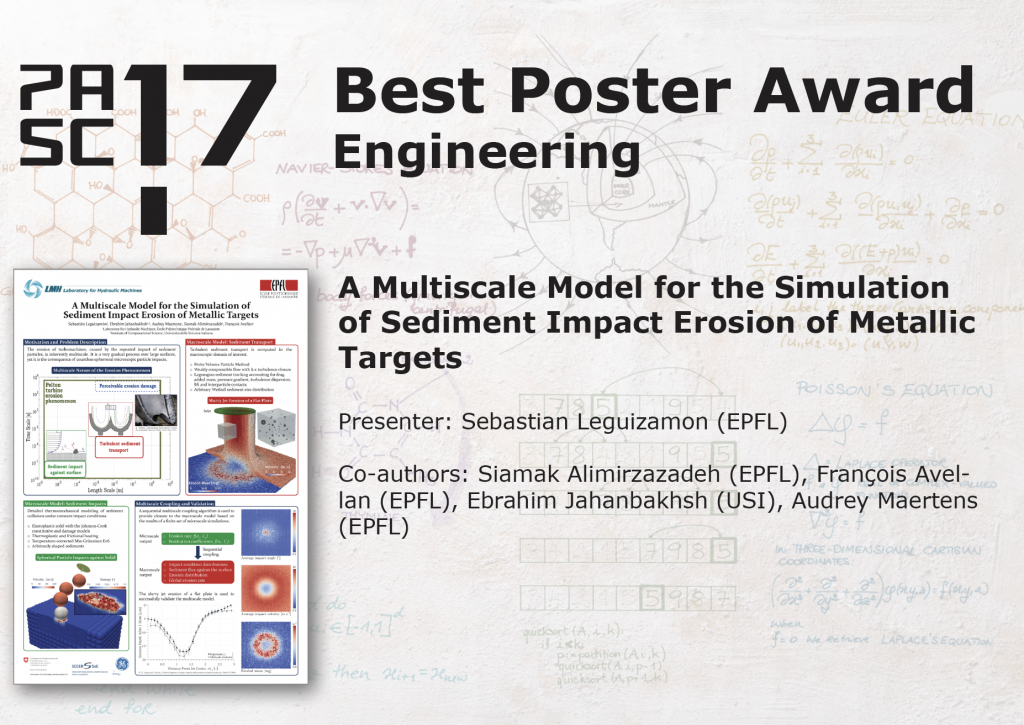 Best Poster Award Life Sciences
CampaR1: An R Package for Extracting Metastable States from Time Series Data
Presenter: Davide Garolini (UZH)
Co-authors: Amedeo Caflisch, Andreas Vitalis (UZH)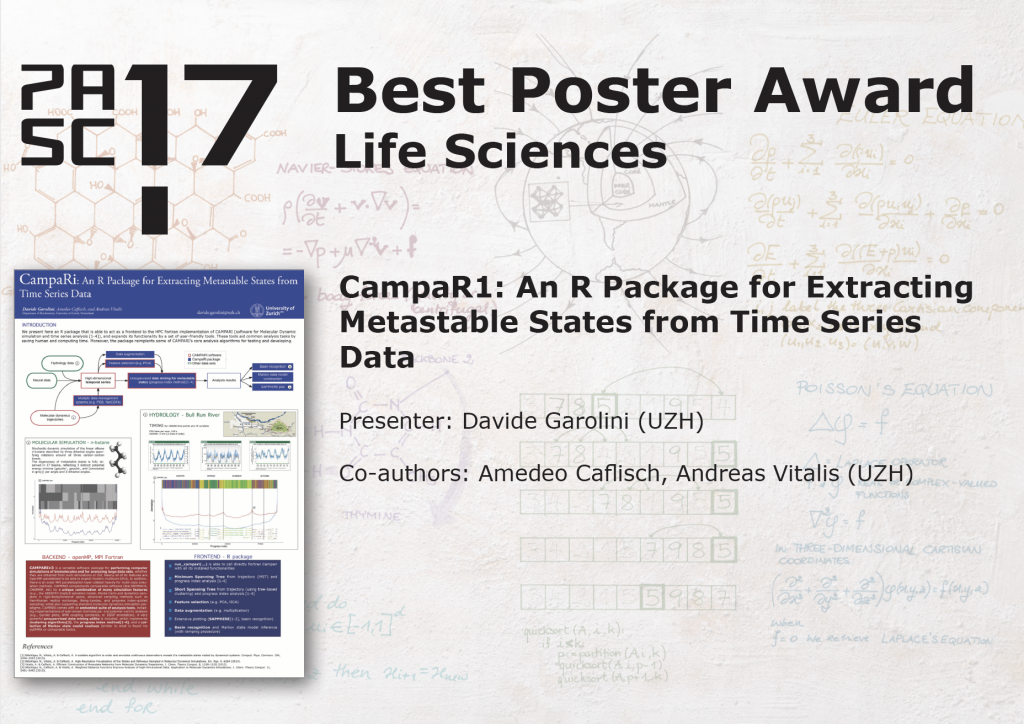 Best Poster Award Chemistry & Materials
DBCSR: A Sparse Matrix Multiplication Library for Electronic Structure Codes
Presenter: Andreas Glöss (University of Zurich, Switzerland)
Co-authors: Jürg Hutter (University of Zurich, Switzerland), Alfio Lazzaro (University of Zurich, Switzerland), Hans Pabst (Intel Semiconductor AG, Switzerland), Ole Schütt (Empa, Switzerland), Patrick Seewald (University of Zurich, Switzerland)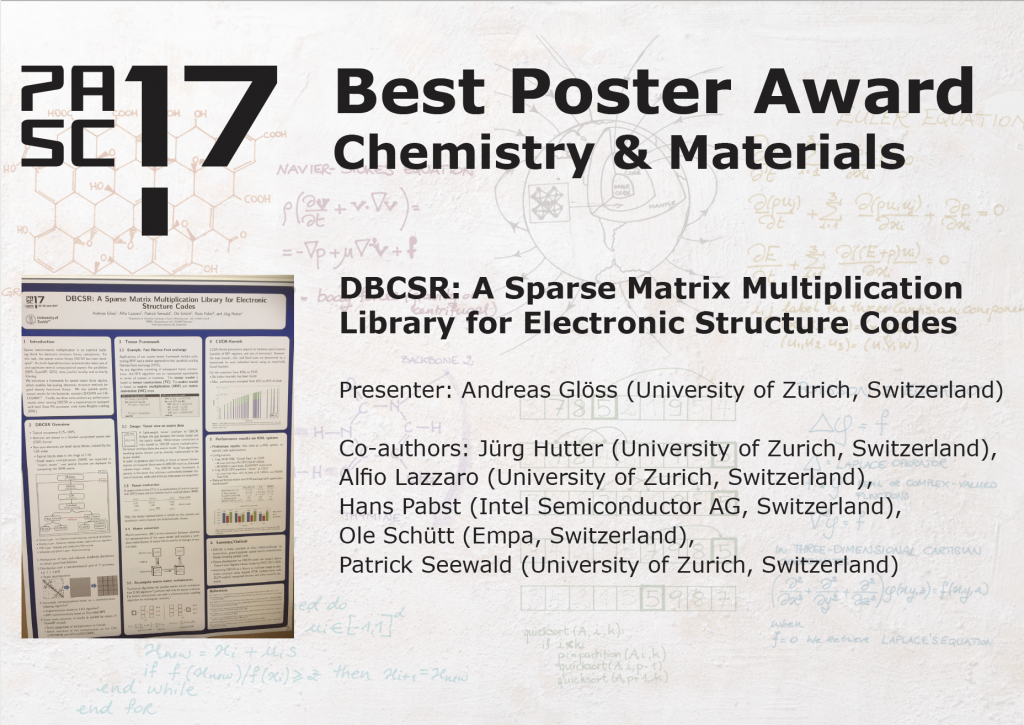 Best Poster Award Physics
The Linear Polarization of the Solar Continuum Radiation from Numerical Simulations of the Solar Atmosphere
Presenter: Flavio Calvo (IRSOL)
Co-author: Oskar Steiner (KIS)